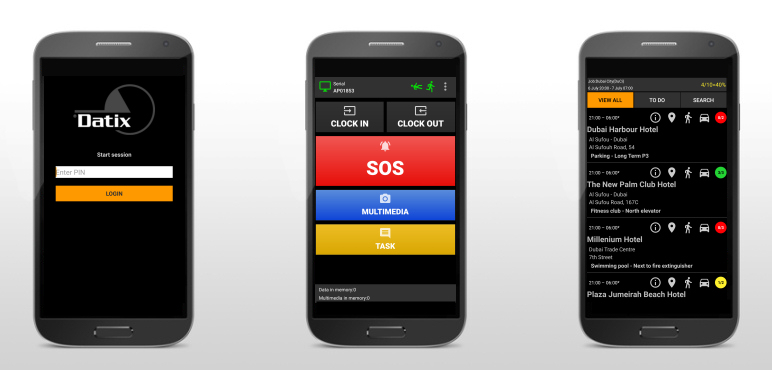 Datix2App
for your Smartphone
With Datix2App you can convert your smartphone into a Datix handset. Includes NFC tag reading, GPS tracking and man down alert system for lone workers. Read more...
Guard tour and staff attendance monitoring
with Datix2Cloud
Datix2Cloud is our new Cloud solution for guarding services management, staff attendance monitoring and GPS tracking. With Datix2Cloud you can benefit from the best available technology, thereby reducing time and costs. You can easily manage workload peaks or temporary jobs without having to make investments in servers or PCs.
READ MORE
Products at a glance
Wi-Trak Pro 3G
RFID, 2G/3G cellular, GPS and man-down
The new all in one multi-purpose handheld: guard tours, time and attendance, lone's worker alert system.
Proxim
RFID guard tour system
Datix Proxim is a RFID patrol control system designed for the electronic certification of guarding services. Extremely strong and reliable.
NaNo
Portable RFID clocking system
Cost effective pocket size RFID clocking terminal for moving workers. Clock-in, clock-out and USB data downloading.
NaNo G
Real time clocking system
Portable RFID time and attendance reporting system, now in real time with GPS and man down system for lone workers.
NaNo G Safe
Lone worker's alert system
Portable device for lone workers engaged in potentially dangerous solitary activity. Panic, loss of verticality and no movement detection.
Clocks
Valuable and cost-effective
SAVV has been manufacturing watchman's clocks since 1958. Easy, rugged and reliable. 1x1,5V battery and 4 screws for wall mounting.
Address

Via Palli 2, 27053 Lungavilla (PV) - Italy

Phone

+39.0383.371100

Fax

+39.0383.371024

VAT

IT00167980184